The Shop | The Pottery | Meet Helaine| The Website |Press
THE SHOP
Clayworks Pottery was founded in 1974. Back then, doing business was simple—you rented a space, brought in the pots, sold them for cash, wrapped them in whatever newspaper was handy, stuck them in a brown paper bag, and that was that. The East Village at that time was a pretty funky place, and Clayworks was like an outpost of civilization on East Ninth Street.

Over the years, the East Village has become a sophisticated, commercially developed and culturally diverse area. Running a business has become more competitive and complicated, requiring elaborate store displays, fancy packaging, ad campaigns, marketing strategies, and Internet sales. Sometimes hype and image become more important than the product itself.

Clayworks, however, has remained as simple as I can keep it. The values that I held then are the same ones I hold now. Here is what we sell at Clayworks: well-conceived pottery, thoughtfully crafted, expertly executed, subtly detailed, richly glazed, stylish and yet eminently functional. Pottery that warms to your daily routine and fits right into your hand, so that you can't start your day without it. Like comfort food, ours are the mugs you reach for, the bowls you carry from room to room, the plates you use to serve your favorite foods. Clayworks pots are made to last and made to please.
THE POTTERY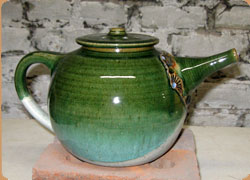 Every piece of Clayworks pottery is handcrafted individually, from ball of clay to kiln, with attention to form and detail not found in mass production work. Each pot is wheel thrown and glazed by the artist to ensure one-of-a-kind quality. We feature both stoneware and porcelain pieces. Clayworks pottery is dishwasher, oven and microwave safe. Strong and long lasting, these pieces are intended for daily use.

Our stoneware is kiln-fired twice. The first, or bisque firing, makes the clay impervious to water and prepares it to receive a glaze coating. The second, or glaze firing, is conducted to a temperature of over 2,200 degrees F., maturing both pot and glaze to a durable, watertight, and beautiful finish. Clayworks' unique glazes are proprietary recipes, hand mixed from earth elements. Glazes on functional ware are lead-free and safe for eating and drinking.

Clayworks offers a wide selection of tableware, home décor, serving, and accent pieces. The collection includes teapots, goblets, vases, honey and garlic jars, cream and sugar sets, espressos, sake sets, crudités, eating and serving bowls, batter bowls, casseroles, ceremonial jars, large and small pitchers, plates and platters of all sizes, onion soupers, green tea cups, olive oil bottles, butter/cheese domes, candle holders, baskets, and the most popular items of all, the Clayworks mugs. And don't forget our Angel Tessa pet bowls, named in honor of our long time resident cat and perfect for your little angel. Within each category there are choices of size, color, shape and decoration. The pieces are intended to mix and match, and they harmonize well in style and feel. New pots blend well with old ones, and people frequently build sets, piece by piece, over time, with great results
MEET HELAINE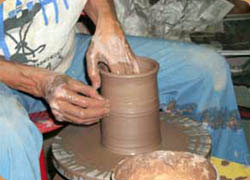 I am a small producer. I spend time with each piece at every stage of the process and wouldn't want it any other way. Quality and function are of the utmost importance to me, and I am willing to sacrifice quantity to insure that I can sign every piece with pride in a job well done. The individual variety of work helps to set Clayworks apart from mass-produced and mass-marketed items. Having my own store allows me a richness of expression and a freedom to work as I wish, keeping me vital, creative, and engaged.

I am almost always in the store. I enjoy helping customers put together the pieces that will make a great gift package, or find the perfect mug, or match new pieces to previously bought ones to continue an ongoing set. Joining the right pot to the right person is, for me, the perfect way to complete the creative process.
THE WEBSITE
When customers asked if I had a website, and when friends and business associates insisted it was a necessity to have a Web presence, I resisted. For me, the essential nature of pottery is tactile. The ability to feel the heft and curve of a bowl, the balance of a handle, the thick richness of a fat glaze or the pleasing texture of a mat finish is not only pleasurable, but critical to selecting the right piece. Would people really buy pottery on the web without being able to handle it? Did I want to sell my work on the web in that way? Was I willing to speed up the pace of my work, in order to produce greater quantities?

After much consideration, I realized that the things that make my work special to me and my clients—the care and individual attention to the details of each piece, and the one-of-a-kind nature of many of the pieces—are exactly the things that would prevent me from selling either wholesale or retail on the Web. But I could design a site that would allow clients past, present and future to reach me here, as well as see a sampling of my work, and thus get a sense of what Clayworks has to offer.

So that is what this website is for—for you to find me, communicate with me, and come here to Clayworks. It's a little store with a lot of heart and history, where the pottery always takes center stage. Come and visit!

Website by Kimpact, Inc.
PRESS
Over the past 38 or so years, Clayworks has been covered or included in many publications. We have been written about by The NY Times twice, the Village Voice a few times, and the New Yorker magazine twice among others. Several local publications as well as foreign ones, particularly in Japan, have been kind enough to feature Clayworks. For many years we have been listed in Gerry's Frank's "Where to Find It, Buy It, Eat It in NY", and we are listed in numerous on-line guides to NYC and the East Village.