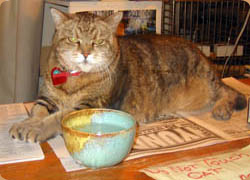 The best way to reach me would be by phone, during store hours of course. You may also e-mail me, with the understanding that it may take me a few days to get back to you.

For long distance clients and friends of Clayworks, please feel free to keep in touch—updates, feedback, comments and good news are always welcome.

I also enjoy seeing pictures of pieces you have bought in use, especially the Angel Tessa pet food bowls. Let me know how the pots are doing, any special ways you use them and any suggestions you may have. 38 years is a long time to be in business and I treasure the relationships I've built with customers along the way, and hope to continue conversing with the most diverse and interesting people in the world—Clayworks clients.