Directions | Hours | Appointments| Registry | Commissions | Payment| Wrapping & Shipping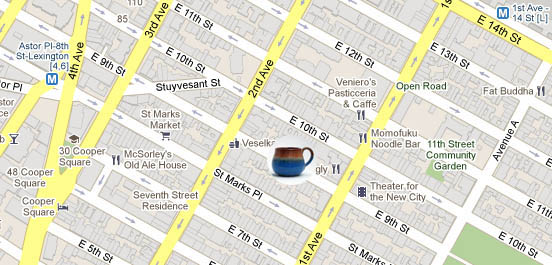 Clayworks is easily accessible by public transportation. The IRT # 6 train to Astor Place, the BMT R or N local to Broadway and Eighth Street, and the First and Second Ave. local buses to Ninth Street are all within 5 minutes of Clayworks. You may always call us at 212.677.8311 for directions.

Click on map for larger area and transportation options.

The East Village has grown from a somewhat funky area to a greatly diverse and sophisticated venue, but has retained its small neighborhood feeling. We have lots of unique stores, great restaurants, and pretty much something for everyone. I encourage you save some time to shop and enjoy the surrounding area when you come to visit Clayworks.



Monday-closed or by appointment
Tuesday-3:30-7:00 pm
Wednesday-1:30-7:00 pm
Thursday-1:30-8:30 pm
Friday-3:30-8:30 pm
Saturday-1:30-8:30 pm
Sunday-1:30-8:30 pm
Hours sometimes vary. If you are making a special trip to Clayworks, please call ahead at 212.677.8311 to confirm the hours. Please leave your name and number, and we will get back to you with the hours of that day.

Holiday Hours: For the month of December, Clayworks will be open daily from 12:30-8:30pm. Or more.
Appointments
You may make an appointment for purchasing if the daily hours are not suitable. Please call ahead at 212.677.8311 and leave your name and number and we will make every effort to arrange a convenient time. Appointments are necessary for bridal registry and commission work, and may be made in the same manner.
Registry
Bridal registry may be arranged by appointment. There are several ways we can manage a registry, and we work closely with each bridal couple to achieve a personal experience. You can do a bridal registry with specific items, or put together a loose list of kinds of pieces and favorite colors for gift choices.
| | |
| --- | --- |
| | I do a limited amount of commission work. Each commission is a personal collaboration between the client and the potter, and allows the client to be involved in the work's progress. Commission work requires an appointment, and when requested, the client must be able to be physically present at certain stages of the project for input or review. |
Payment
Clayworks accepts Visa, MasterCard, and hard earned American cash. We do not accept Amex, personal checks or traveler's checks. Currently, we cannot take phone orders.
Wrapping and Shipping
In store, we can do a simple and colorful tissue wrap for your gift items.

Clayworks does not ship, but we have an arrangement with a nearby shipping service that will do the shipping and provide you with a small discount, with our store receipt.